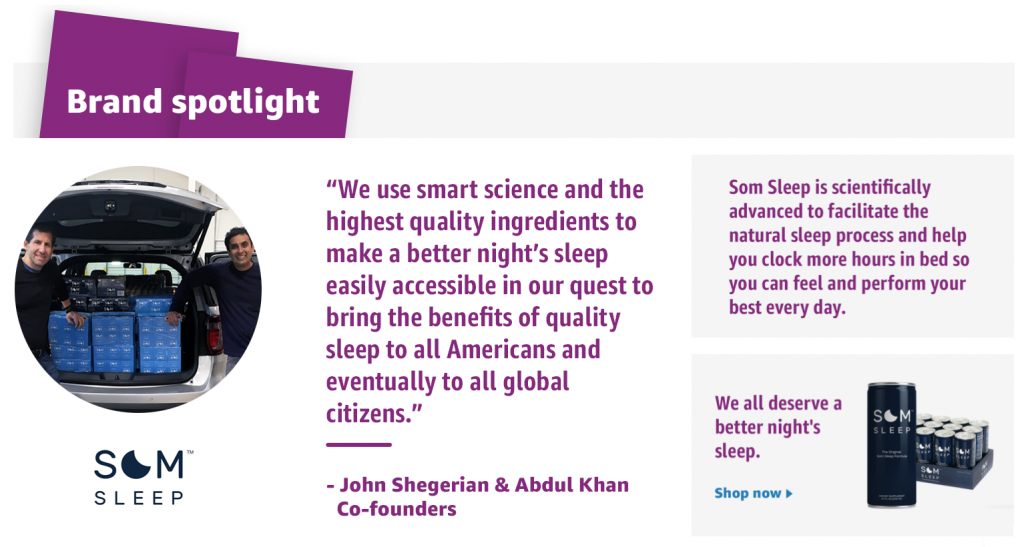 Som Sleep, the first and only NSF Certified for Sport ready-to-drink sleep supplement, is currently featured in the Amazon Exclusives Brand Spotlight.
Approximately 83.6 million sleep-deprived Americans get behind the wheel every day. In June of 2016, John Shegerian was one of them. He nodded off behind the wheel for less than a second, but that's all it takes. He almost crashed his car into oncoming traffic. Still shaken, John pressed on to meet his friend-turned-co-founder Abdul Khan and shared his near-death experience. That was the moment they knew they had to create Som Sleep.
"We launched Som Sleep in January of this year with a simple mission in mind: to democratize sleep," says John Shegerian, the Co-founder and CEO of Som Sleep. "We use smart science and the highest quality ingredients to make a better night's sleep easily accessible in our quest to bring the benefits of quality sleep to all Americans and eventually to all global citizens. We are grateful to collaborate with Amazon in this venture."
Available in both Original and Zero Sugar, Som Sleep is scientifically advanced to facilitate the natural sleep process and help you clock more hours in bed so you can feel and perform your best every day. The Som Stack is comprised of five active ingredients that are naturally found in your body, a healthy diet, and green tea. Magnesium and Vitamin B6 help to optimize your body's natural sleep cycle, L-Theanine and GABA promote relaxation, and Melatonin jumpstarts the natural process of falling asleep. Best of all, you can rest easy knowing it's drug-free, non habit-forming, gluten-free, and vegan. Som is available in a 4-pack, 12-pack, and 24-pack for both one-time purchase as well as recurring delivery.