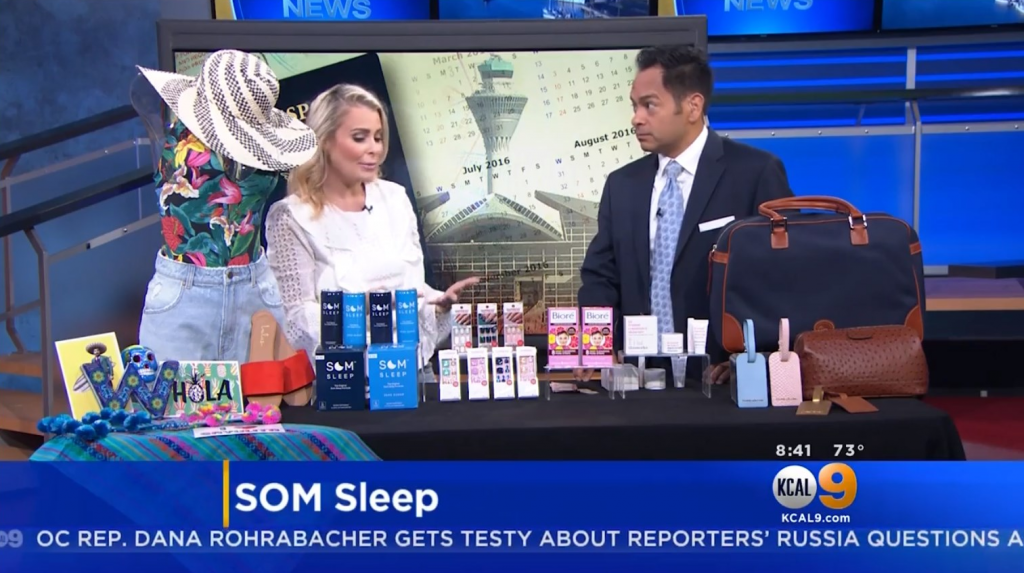 Som Sleep, the first and only NSF Certified for Sport ready-to-drink sleep supplement, was recently featured on KCAL 9 – CBS Los Angeles as a key item to pack for your summer vacation.
"When you travel, sometimes sleeping can be an issue. Maybe you're getting used to a different time zone. A lot of times dehydration is a big factor in why you're not sleeping," says lifestyle expert Sadie Murray "I want to introduce you to Som Sleep. This is a drug-free, non-habit-forming, low-cal, vegan, gluten-free sleep drink. You take it 30 minutes before bed. It's got Magnesium, Melatonin, Vitamin B6, L-Theanine, GABA… I did this last night. I slept like a baby… [Som will] keep you feeling really great and rested, so make sure you pack some of that!"
The Som Stack™ is comprised of ingredients that are naturally found in your body, a healthy diet, and green tea. Magnesium and Vitamin B6 help ensure your body's natural sleep cycle is operating as effectively as possible, while L-Theanine and GABA promote relaxation. Melatonin jumpstarts the natural process of falling asleep. Som enhances sleep while remaining drug-free, non-habit-forming, vegan, gluten-free, non-GMO, and free of artificial colors and preservatives.
"Heat and jet lag are two factors that can contribute to fragmented sleep, especially during the summer," says John Shegerian, the Co-founder and CEO of Som Sleep. "We created Som Sleep not only to help you achieve more quality sleep, but also to help you adjust to life changes like weather, travel, stress, and then some. Som is a great way to keep your sleep on track no matter the circumstances."