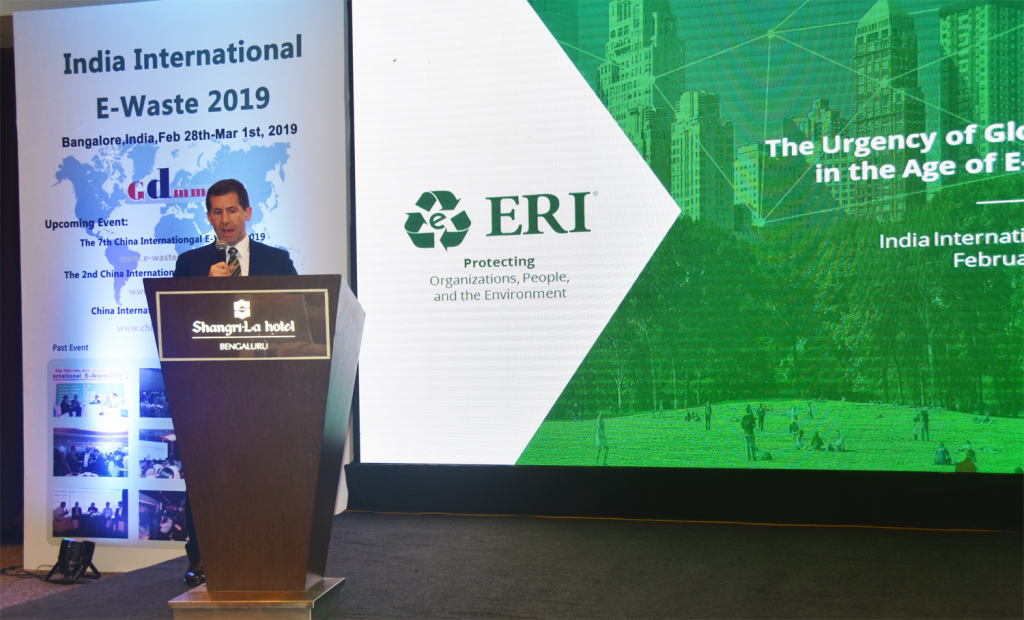 BANGALORE, India–(BUSINESS WIRE)–Mar 5, 2019–John Shegerian, Co-Founder and Executive Chairman of ERI, the nation's leading fully integrated IT and electronics asset disposition provider and cybersecurity-focused hardware destruction company, delivered a rousing keynote presentation at the first annual India International E-Waste conference in Bangalore last week.
Shegerian, who was named "Honorary Chair" of the conference's second day, served double-duty at the event, also leading the Circular Economy panel discussion, sharing insights and performing moderator duties, asking questions and engaging in dialogue with leading global authorities on the subject.
For the keynote, Shegerian shared his presentation, "The Urgency of Global Data Protection in the Age of E-Waste Recycling," to the international gathering of electronics and electronic waste industry leaders and experts. During the presentation, he shared the very real dangers of hardware hacking and how the problem has evolved.
"This first-of-its-kind event in India benefited from gathering together all the players in the supply chain to discuss the market, policies, concerns and innovations facing India and the world today," said event organizer Allen Yu. "It was very helpful and informative to have experts such as John Shegerian, who can share a global perspective on the most important issues."
"It was a great honor and privilege to be here at the India International E-Waste event, sharing information on what are two of the most pressing issues in our industry today – data security and the circular economy," said Shegerian. "This event is vitally important because it gives thought leaders from all over the world the opportunity to share what they know and discuss vital best practices. The world is getting smaller than ever and business leaders need to reach out across continents and communicate if we are to problem-solve and work together to create solutions that will benefit our entire planet while simultaneously protecting our privacy and security."