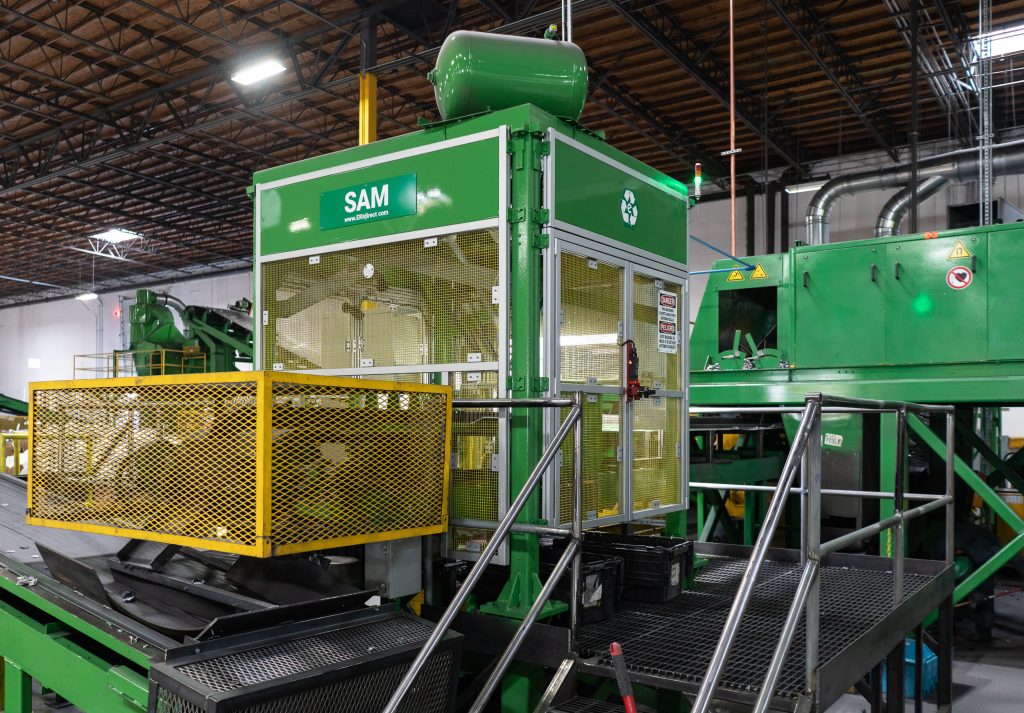 ERI, the nation's leading fully integrated IT and electronics asset disposition provider and cybersecurity-focused hardware destruction company, has announced the installation and launch of its groundbreaking A.I.-driven robotic system at its Indiana facility.
Following on the heels of ERI's installation of its A.I. and robotics technology at its Fresno, California headquarters, the company has installed its Super Automated Machine (SAM) sorting robotic technology at its Indiana plant.
The robotic system, designed by Colorado-based AMP Robotics, is integrated into ERI's scrap metal sorting line. SAM separates shredded material such as aluminum, printed circuit boards, yellow brass, capacitors, and copper products into a clean stream, based off a vision system to identify the target material that then sends it to the A.I. (brain) that then determines what action the robot should pick. The picking is done via vacuum system. The robotic system at ERI can achieve about 70 picks per minute in its current configuration. Plus, it processes 10 different streams of shredded material.
"With steady growth of 10-15 percent per year, we are always looking for innovative ways to enhance efficiency," said John Shegerian, ERI's Co-Founder and Executive Chairman. "Working with our friends at AMP we have developed smart technology that increases our sorting accuracy as our processing volume increases so we can free up our employees to perform ITAD and data wiping services. We are really excited about robots and A.I. and being the first in our industry to incorporate them into the process."
Shegerian added that by the end of 2019, the company will have added robotics and A.I. to its other facilities across the country.
"As an innovative leader of electronic waste recycling, ERI is an ideal long-term partner for AMP as we continue to pioneer the application of A.I. and robotics for the sector. Our shared vision about transformative technology will advance productivity and sustainability to unprecedented levels," said Matanya Horowitz, CEO of AMP. "John and his team have been fantastic to collaborate with and we look forward to expanding our collective effort leading the circular economy."