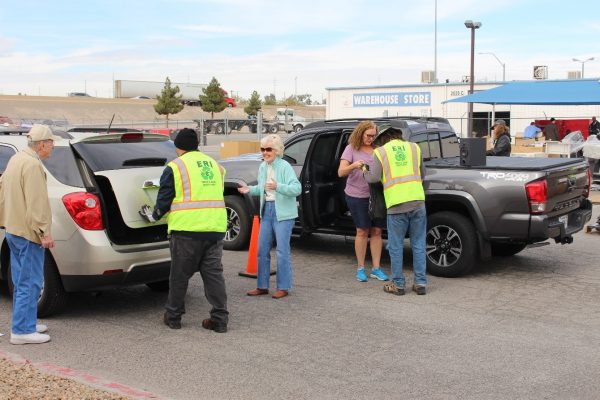 ERI, the nation's leading recycler of electronic waste and the world's largest IT asset disposition provider and cybersecurity-focused hardware destruction company, will team up with MRM and TCL® to host a free, safely social distanced electronics recycling event for all Fresno-area residents on Saturday, November 14th (America Recycles Day). The event provides locals with an opportunity to take their unwanted TVs, computers, cell phones, and other devices and conveniently drop them off to be responsibly recycled at no cost!
Participants can easily reserve a time online to drop-off items, and on Saturday, November 14 conveniently drive-through, drop-off, and go! Free appointments are available at the click of a button on a first come, first served basis, with a proven and safe drop-off method that maintains social distancing.
Time slots can be reserved here.
On the weekend of America Recycles Day, November 14, TCL will be launching its nationwide TCL Take-Back Tour – in partnership with MRM, ERI and Fresno County. Building on its award-winning Environmental Sustainability programs, TCL's Take-Back Tour will provide a safe and socially distant way for customers to recycles their unused electronics across the country including Fresno.
The event will take place Saturday, November 14, 2020 from 9:00 am to 1:00 pm. at 3243 South East Avenue, Building 108 Fresno, California 93725. The event is open to all residents (no businesses) and there is no limit on the number of accepted devices.
Appointment availability is on a first come, first served basis and so be sure to book yours soon. Consumers are asked to please arrive with their electronics items during their scheduled time slot on November 14th.
Items accepted include computers (desktop and laptops), monitors (CRT and flat screen), all-in-one computers, tablets, mice/keyboards, printers, fax machines, VCR/DVD players, cable boxes/DVRs, stereo equipment, cell phones, gaming consoles, televisions (CRT and flat screen).
ERI will recycle the e-waste collected at the event, destroying all data (even when a device is not fully destroyed) and recycling or refurbishing all items in an environmentally responsible manner.
"We are extremely proud to once again partner with our friends at TCL and MRM for this important America Recycles Day event," said John Shegerian, Co-Founder and Executive Chairman of ERI. "By working together, we are succeeding in getting the word out about the importance of responsibly recycling electronics while helping the great people of Fresno keep unwanted items out of landfills. We look forward to conducting similarly successful events for years to come!"
About ERI
ERI is the largest fully integrated IT and electronics asset disposition provider and cybersecurity-focused hardware destruction company in the United States. ERI is certified at the highest level by all leading environmental and data security oversight organizations to de-manufacture, recycle, and refurbish every type of electronic device in an environmentally responsible manner. ERI has the capacity to process more than a billion pounds of electronic waste annually at its eight certified locations, serving every zip code in the United States. ERI's mission is to protect people, the planet and privacy. For more information about e-waste recycling and ERI, visit eridirect.com.
About TCL
TCL empowers customers to enjoy more™. With a lineup of award-winning televisions, audio products, mobile devices, and appliances, TCL takes pride in delivering meaningful experiences by combining thoughtful design and the latest technology. As one of the world's largest consumer electronics brands, our extensive manufacturing expertise, a vertically integrated supply chain, and state-of-the-art panel factory, help TCL deliver innovation for all. Learn more at TCL.com.
About MRM
MRM was founded in 2007 by electronics manufacturers for electronics manufacturers. MRM's mission is to bring manufacturers together to help provide convenient, environmentally responsible recycling opportunities to consumers nationwide. Learn more at MRMrecycling.com.