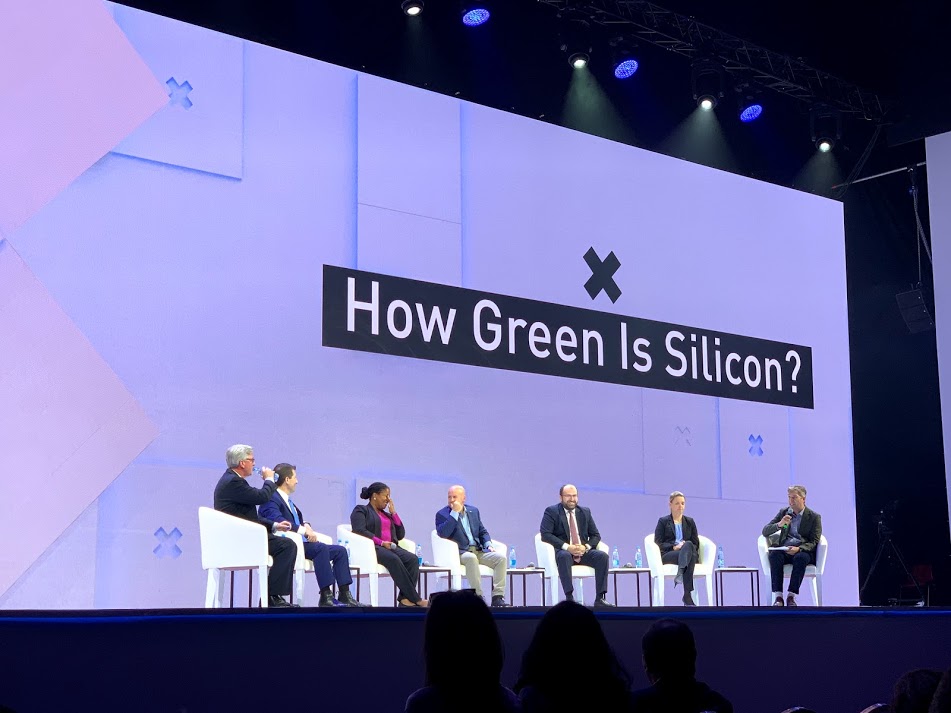 LAS VEGAS–(BUSINESS WIRE)–Angie Ransom, Vice President of the Retail Division for ERI, the nation's largest fully integrated IT and electronics asset disposition provider and cybersecurity-focused hardware destruction company, participated in a panel of experts on the multifaceted relationship between data and logistics yesterday at the Reverse Logistics Association (RLA) 19th Annual RLA Conference & Expo at the Mirage in Las Vegas.
For the panel titled "Reverse Our Thinking: Logistics Powered by Data," Ransom was joined onstage by Jason MacIver of Dell Technologies and Greg Williams of Cisco Systems. The panel was moderated by Chris Rezendes of OnProcess Technology.
During the presentation, Ransom shared why we are heading into a time of significant growth in need for ITAD services and recycling of electronic waste and how efficient GPS tracking, monitoring, and data capture on a national level can maximize efficiencies. She also discussed the role data plays in helping companies report success for ESG, sustainability and circular economy initiatives.
"We're grateful to have our own Angie Ransom be invited by our friends at RLA and OnProcess to participate in this important and informative discussion at RLA Conference," said ERI Chairman/CEO John Shegerian. "RLA is a vitally important organization, providing the reverse logistics community with critical thought leadership and an opportunity for leaders to share what they know – and to discuss vital best practices. Communication and education are vital if we are to problem-solve and work together to create solutions that protect our planet. We're grateful to RLA for including such critical dialogue at this important event."
The annual RLA Conference & Expo is the worldwide premier reverse logistics event for industry professionals. The event focus is for third party solution partners to help manufacturers and retailers become aware of reverse logistics support on a global basis.
ERI is the largest fully integrated IT and electronics asset disposition provider and cybersecurity-focused hardware destruction company in the United States. ERI is certified at the highest level by all leading environmental and data security oversight organizations to de-manufacture, recycle, and refurbish every type of electronic device in an environmentally responsible manner. It is the first and only company in its industry to achieve carbon neutrality at all its facilities nationwide, and the first to achieve SOC 2 certification for security and data protection. ERI has the capacity to process more than a billion pounds of electronic waste annually at its nine certified locations, serving every zip code in the United States. ERI's mission is to protect people, the planet and privacy. For more information about e-waste recycling and ERI, call 1-800-ERI-DIRECT or visit https://eridirect.com.