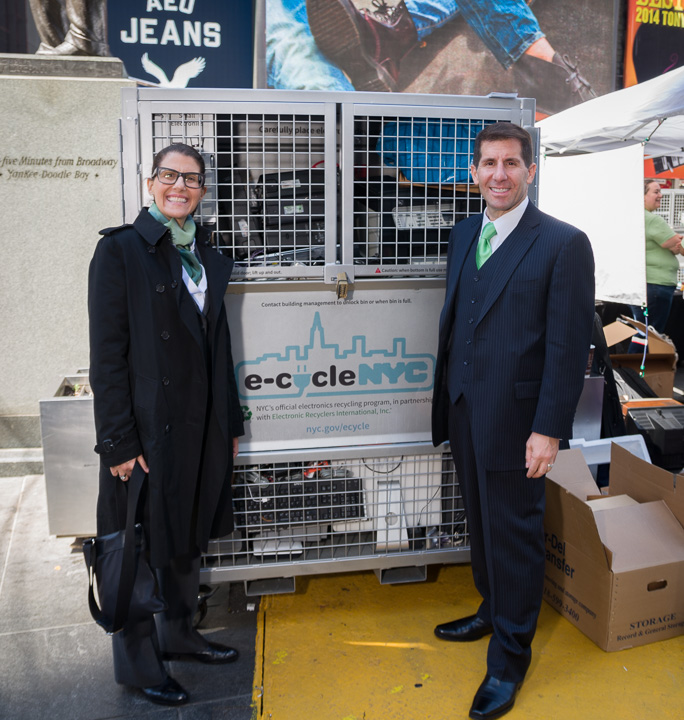 Electronic Recyclers International (ERI), the nation's leading recycler of electronics and e-waste, and the Broadway Green Alliance (BGA) have announced the results of their e-waste collection event which took place in the heart of Times Square in New York City last month. The organizations gathered more than 8,800 pounds of electronic waste – which is the most collected at a September BGA Times Square collection drive to date.
The event was designed to give the local community an opportunity to safely unload their old computers, television sets, and other outdated, unusable or unwanted consumer electronic items for proper recycling that is safe and environmentally sound. ERI will safely recycle all the e-waste that was collected at the event, which took place September 17th.
The BGA, the five-year-old industry initiative that educates, motivates, and inspires the entire theatre community to adopt environmentally friendlier practices, rallied the Broadway community to support the event. As a result, many of Broadway's leading shows and stars got involved and encouraged fans of live theatre – and all residents of New York City in general — to take advantage of the opportunity to unload unwanted electronics while doing something good for the environment.
"We are extremely proud to have partnered with our friends at the BGA for this important event," said John Shegerian, Chairman and CEO of ERI. "By working together, we succeeded in getting the word out about the importance of responsibly recycling electronics while helping the great people of New York City keep their unwanted items out of landfills. We look forward to conducting similarly successful events for years to come!"
As part of the event, ERI bins were also available backstage at many of Broadway's top productions.
"It was truly rewarding to see New Yorkers join Broadway shows and theatres to responsibly recycle their old electronics in Times Square," said Rebekah Sale, Broadway Green Alliance's Coordinator. "It has been great to work with ERI on this important project — our most successful e-waste drive to date — and we look forward to future events where we can continue to help local residents and businesses become more environmentally responsible by offering them convenient opportunities to safely dispose of their old electronic devices."
For more information on general recycling needs, visit electronicrecyclers.com, 1800recycling.com or urbanmining.org.