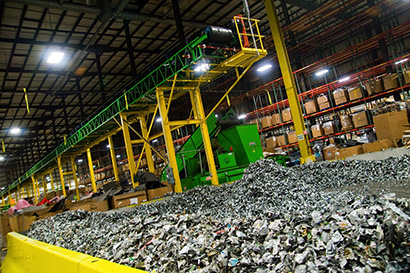 NEW YORK–(BUSINESS WIRE)–The nation's leading recycler of electronic waste and the world's largest cybersecurity-focused hardware destruction company has announced a name change. Formerly known as Electronic Recyclers International, the company has officially rebranded as ERI.
"While we do still lead the nation in the recycling of electronics and e-waste," said ERI Chairman and CEO, John Shegerian, "the shortening of our name to ERI reflects the tremendous growth in our capabilities over the last several years and that we are leading the charge in so much more than recycling now. Whether it is recommerce, recovery, reporting, recycling or regulatory guidance, the 'R' in our name applies to our multiple service offerings. We are also leaders in the ITAD space for secure data destruction and hardware data security, which has become a huge part of what we do."
Shegerian noted that ERI currently provides the only dually certified nationwide solution offering 100 percent data destruction for consumer electronics devices, e-waste, and hardware.
ERI has also successfully achieved AAA certification for data destruction from the National Association for Information Destruction (NAID) for its facilities in California, Colorado, Indiana and Massachusetts. ERI's goal is to have all of its locations NAID certified by January of next year.
In keeping with the name change, ERI has launched a new URL for its website and online identity and branding, anchored by its ERIdirect.com moniker. Anyone can reach ERI by visiting www.ERIDirect.com or calling 1-800-ERI-DIRECT.
"It's a natural shift for us to make as we enter a new phase of growth," added Shegerian. "The vast majority of our customers, partners and the public at large refer to us as 'ERI' anyway. We've made the acronym official – and it's a name we are all proud of for what it represents in terms of innovation and doing things the right way."