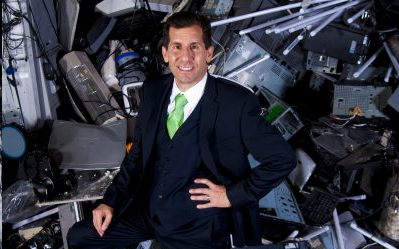 John Shegerian, Founder and Executive Chairman of ERI, the nation's leading recycler of electronic waste and the world's largest IT asset disposition (ITAD) and cybersecurity-focused hardware destruction company, delivered a rousing keynote presentation at the fifth annual China International E-Waste conference in Shanghai today.
Shegerian shared his presentation, "Electronics Recycling & Management in the US," to the international gathering of electronics and electronic waste industry leaders and experts. During the presentation, he provided a "state of the industry" analysis of the current e-waste landscape, including the crucial need for digital security protection.
Shegerian served double-duty at the event, as he also led the conference's Circular Economy panel discussion, sharing insights and performing moderator duties, asking questions and engaging in dialogue with an assortment of academics and experts on the subject.
Now in its fifth year, the China International E-Waste Conference provides attendees with the latest intelligence and best practices on the e-waste landscape. With the continuous development of new and improved consumer electronics, the whole world is facing serious problems caused by the flow of e-waste produced every day. China is the largest supplier of consumer electronics in the world, and is a natural location for this summit-style event, which gathers all the key players in the supply chain to discuss the latest developments and share research and progress in e-waste management.
Joining Shegerian as presenters at the event were representatives from the Chinese Ministry of Environmental Protection, other Chinese government agencies, the United Nations, the Basel Convention, University of China, Tsinghua University, Canon, Hewlett Packard, Haier Home Appliance, the United Nations, NDRC, Greenpeace and many others.
"There's no greater time to forge international relationships than now," said Shegerian. "This event is vitally important because it gives thought leaders from all over the world the opportunity to share what they know. The world is getting smaller and flatter than ever and business leaders need to reach out across continents and communicate if we are to problem-solve and work together to create solutions that will benefit our entire planet."
For more information on general recycling needs, visit https://eridirect.com,https://recyclenation.com, https://greenisgoodshow.com/ or www.urbanmining.org.