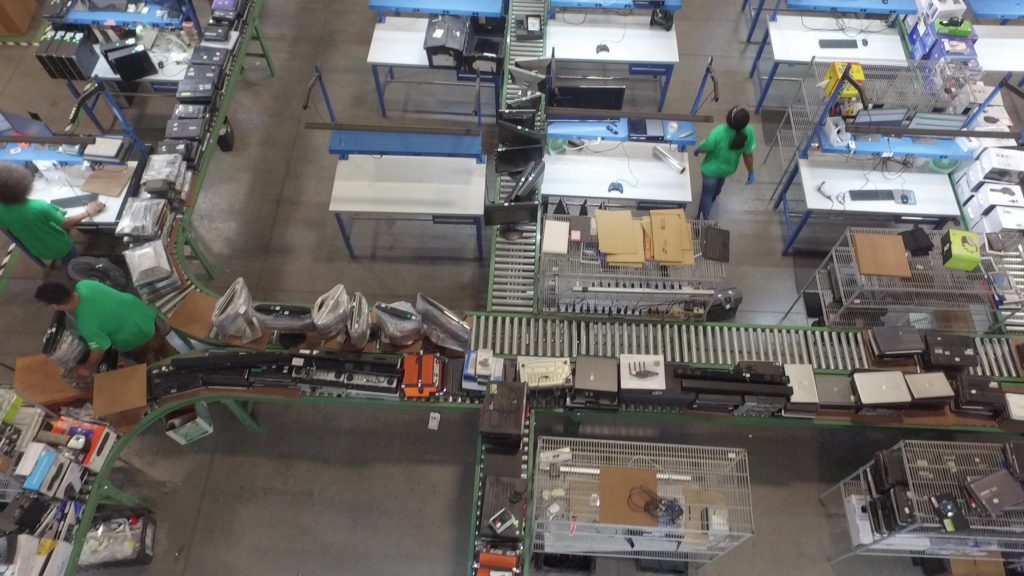 ERI, the nation's leading recycler of electronic waste and the world's largest IT asset disposition (ITAD) and cybersecurity-focused hardware destruction company, shared insights on the circular economy today with some of the nation's foremost business and city leaders.
Shegerian was a featured speaker as part of the US Chamber of Commerce Foundation's third annual business delegation tour.
The US Chamber of Commerce Foundation Corporate Citizenship Center (CCC), in partnership with the New York City Department of Sanitation and Brooklyn Chamber of Commerce, hosted the tour, a unique event that brought together business and city leaders and innovators to explore practical and profitable circular opportunities to help decouple economic growth from resource constraints while driving performance, competitiveness and innovation.
Through hands-on site tours, deep dive workshops, interactive peer-to-peer discussions and networking, attendees were inspired and equipped with clear insights and specific opportunities that their organizations can capitalize on to bring the circular economy to scale.
With the delegation tour stopping at the Manhattan Special Waste Drop-Off, Shegerian shared how benefits of a truly effective circular economy business model can include sustainability, cyber security, resource retention, energy savings, jobs creation, spurred innovation, and unique collaborations and opportunities. As an example, he described the e-cycleNYC program, ERI's unique partnership with DSNY that currently provides residential e-waste pickups for more than 2.4 million New Yorkers.
"ERI has been a leader in capturing electronics and converting them into materials that can be responsibly recycled or turned into new products," said Marc DeCourcey, Senior Vice President of the US Chamber of Commerce Foundation. "This is vital to ensuring valuable materials are reused rather than inappropriately disposed. We were proud to feature ERI's work in New York City during our Circular Economy Business Delegation Tour."
"It's an honor and a privilege to be part of this vitally important US Chamber of Commerce Business Delegation Tour here in the great City of New York," said Shegerian. "It's rewarding to have the opportunity to share what we've learned and found to be best practices in terms of maximizing the win-win qualities of the circular economy model. In terms of responsible recycling, data destruction and environmental sustainability, there's never been a more important time for businesses to protect their assets, the assets of their customer base and to do the right thing while they're at it. Many thanks are due to the US Chamber of Commerce and the forward thinking businesses and officials who chose to take part in this tour."
Attendees on the tour included representatives from AgTech X, Capalino+Company, Citi, Danish Cleantech Hub, ECOVA, Eileen Fisher, Enerkem, IDEO, JetBlue, Kuerig Green Mountain, Morgan Stanley, New York City EDC, NRG Energy, PwC, Republic Services, RRS, Target Corporation, Tarkett North America, TerraCycle, Tetra Pak Inc., Veolia, VFC Timberland, and Walgreens Boots Alliance, among others.