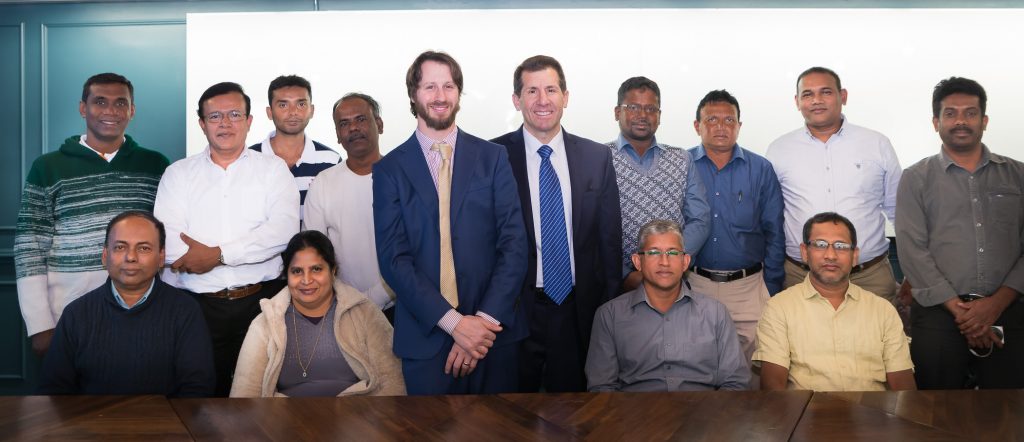 NEW YORK–(BUSINESS WIRE)–A visiting delegation of government officials and businesspeople from Sri Lanka visited ERI, the nation's leading recycler of electronic waste and the world's largest cybersecurity-focused hardware destruction company. The visit was part of the U.S. Department of Commerce's Special American Internship Training Program (SABIT).
The SABIT program provides industry-specific training to senior managers from Eurasia and South Asia. The delegation of waste management experts from Sri Lanka came to meet with various organizations in the United States to learn about best practices in waste management, establish business contacts and attend the WasteExpo show.
E-waste is a major concern in Sri Lanka and the delegates aimed to investigate best practices and establish contacts with U.S. companies and experts on the subject. While visiting ERI's New York offices, Executive Chairman John Shegerian and Director of OEM, Sustainability and Legislative Affairs David Hirschler shared ERI's experience leading the electronics recycling industry and explained the importance of data destruction and environmental responsibility.
"It is an absolute honor and privilege to share insights with this terrific group of government officials and entrepreneurs from Sri Lanka and our friends at the US Department of Commerce," said Shegerian. "We're particularly proud to be able to serve as an example for electronic recyclers around the world, exceeding the strictest standards of environmental protocols as well as effective and responsible data destruction – and to be able to share our experience and best practices with the forward-looking delegates here today. Effective recycling of electronics and proper destruction of private digital data have become crucially important issues and we shared how to do it all responsibly."