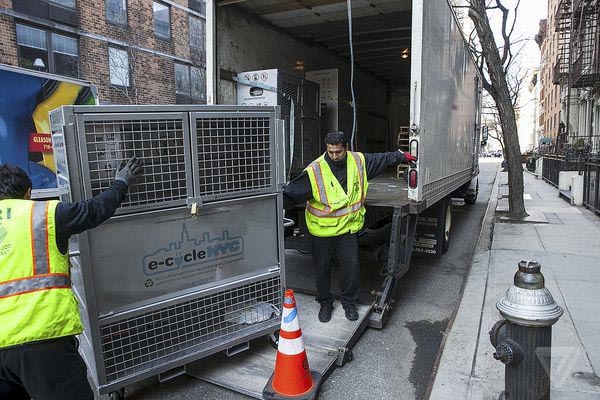 In a press conference held last week by the New York City Department of Sanitation (DSNY), it was announced that the curbside e-waste pickups that are part of the City's groundbreaking ecycleNYC ( www.nyc.gov/ecycle ) program, have now expanded beyond Staten Island and north Brooklyn to now include south Brooklyn and west Queens.
Sanitation Commissioner Kathryn Garcia was on hand at the presentation to announce the expansion of the e-waste curbside collection pilot program for south Brooklyn and western Queens residents. Also on hand at the press conference was Jessica Yung, Assistant Project Manager for ERI, the largest fully integrated IT and electronics asset disposition provider and cybersecurity-focused hardware destruction company in the United States, and the company responsible for recycling all electronic waste collected for the ecycleNYC program.
It was announced that the curbside pickups, launched as a pilot effort by DSNY and ERI in Staten Island (later expanding into Northern Brooklyn), have been so successful, that the concept is now being made available to residents in south Brooklyn and western Queens.
Effective immediately, residents in buildings with 1-9 units living in south Brooklyn and western Queens community boards will be eligible to receive curbside collection of their unwanted electronics items that are covered under the NYS disposal ban. This announcement continues the expansion of the Department's e-waste curbside collection program, and is just one of many options available to city residents.
This expansion covers residents living in 1-9 unit buildings in Brooklyn Community Boards 6, 7, 10, 11, 12, 13, 14, 15 and 18 and Queens Community Boards 1, 2, 3, 4, 5, 6 and 9.
"We are excited to be able to continue to expand our curbside collection of certain e-waste," said Sanitation Commissioner Kathryn Garcia. "Electronics often contain harmful materials, including lead, mercury and cadmium. We want to keep these toxins from polluting the air, soil, and water. Our curbside collection program, along with our ecycleNYC initiative, drop off locations and special events, give residents across the city a number of options when looking to dispose of their e-waste."
To request an appointment, residents can call 311 or go to nyc.gov/electronics. Pickups will take place Monday through Friday, except city holidays. Items must be placed at the curb, Sanitation Workers cannot enter private property.
Residents with electronic items may also visit the Special Waste Drop-Off locations, or attend one of the SAFE Disposal Events. Both accept e-waste covered by the NYS law. More information is available at nyc.gov/electronics. Residents living in buildings with 10 or more units should enroll in ecycleNYC, a free, in-building e-waste collection program for large buildings.
After collection by Sanitation, ERI removes the e-waste for proper and safe recycling.
"We are honored to continue to be part of this constructive collaboration and this innovative and successful partnership with the great city of New York," said John Shegerian, Co-Founder and Executive Chairman of ERI. "The curbside pickup program is yet another advancement and added convenience to a residential program that already regularly provides responsible, effective recycling for millions of New Yorkers' electronic waste. It's rewarding to be able to help so many in our city do the right thing and collect and responsibly recycle their e-waste and keep toxic electronics out of New York landfills!"