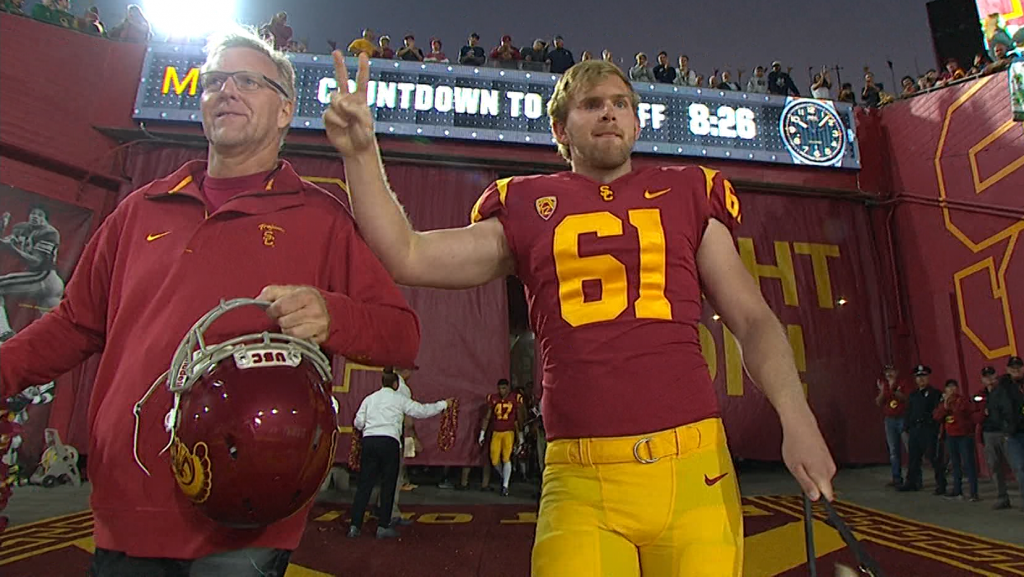 Jake Olson, President & Co-Founder of Engage and former blind long snapper for the USC Trojans, was featured in The OC Register this week in an article discussing his football career and life after football.
The article relives Jake's unique journey from shadowing Pete Carroll at age 12 to earning his position as USC's blind long snapper. The article prefaced the Trojan's senior night, a rivalry game against Notre Dame, and Jake's last time suiting up as an official member of the USC Trojan football team.
On the warm evening of November 24th, Jake Olson ran out onto the field with his father, Brian Olson, and guide dog Quebec. Olson's smile, radiating on the screen, filled the Coliseum with a swell of emotion and bursting applause. Yet, as the article emphasizes, this is not the end of Jake's story. He continues to inspire others off of the playing field through his speaking engagements.
Jake's post football career is centered around his talent for motivational speaking and his new startup, Engage. Jake and his roommate-turned-manager Daniel Hennes founded Engage to help modernize an antiquated process. The process of booking talent currently includes paper contracts, faxes, mailing checks for payments, and various other outdated methodologies. Engage replaces the old system with digital contracts, live chat communication within the platform, email notifications, credit card or ACH payment, and much more.
Daniel Hennes, Engage's CEO, is passionate about the project they have started together. "I'm beyond excited to be working with Jake on Engage. It has been a wonderful experience being his manager and friend throughout his career, and I'm glad we will continue working together to solve a problem talent and their agents experience constantly."
When asked about his life after long snapping, Jake Olson replied, "I'm sad my days as a football player are over. However, with every ending there is a new beginning and for me this beginning is Engage. I'm excited to see just how far my team and I can take this business."
Making the transition from long snapping to starting his own company, Jake Olson continues to inspire others with his optimism, perseverance, and passion to help others.
To learn more about the platform, view the open beta, and sign up, visit www.letsengage.com.
Engage is a proprietary platform for booking talent and events. Engage allows consumers, event planners, and businesses to find and book talent in less than ten minutes. To learn more, visit www.LetsEngage.com. For media inquiries, contact Press@LetsEngage.com.
SOURCE Engage, LLC