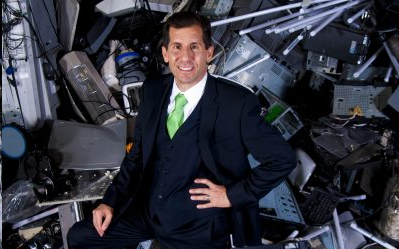 John Shegerian, Co-Founder and Executive Chairman of ERI, the nation's leading fully integrated IT and electronics asset disposition provider and cybersecurity-focused hardware destruction company, was a featured panelist at the Global Innovation Forum (GIF) 2019 last week at the Dvin Complex in Yerevan, Armenia.
The second annual GIF on "Transforming Intelligence" was designed to explore the impact of A.I. on science and society from the scientific, technological, and industrial perspectives. At GIF19, leading scientists and thought leaders from all over the world engage in academic discussions and visionary debates, sharing their expertise and research findings.
Shegerian was featured as part of the panel titled "Fishbowl on Smart Earth" Emphasis Smart Cities," alongside co-panelists Shombi Sharp, of the United Nations; Dr. Erik Grigorian, Armenia's Minister of the Environment, and Jonathan Lacote, French Ambassador to Armenia.
In the discussion, Shegerian described the very real data privacy and environmental challenges brought on by A.I.-driven smart cities, but also discussed solutions such as secure data destruction and engaging in the Circular Economy.
"Part of preparing our future leaders for great things is providing opportunities for them to interact with prominent entrepreneurs such as John Shegerian, who graciously shared his helpful and inspiring experience and knowledge with our students at this event," said Armen Orujyan, CEO of Fast Foundation, organizers of the GIF conference.
"It has been a great honor to be have been invited to join this group of thought leaders to share the latest on the Circular Economy, Cybersecurity, and the 4G to 5G switchover," said Shegerian. "This unique and forward-looking event is helping decision-makers from all over the world design and shape the conversation around our Digital Future and discuss the outcomes that the information and communications technologies have in our lives. Sustainability and data protection need not be mutually exclusive and that was one of the key points we were able to drive home today. If done correctly, we can protect our privacy…and the planet."