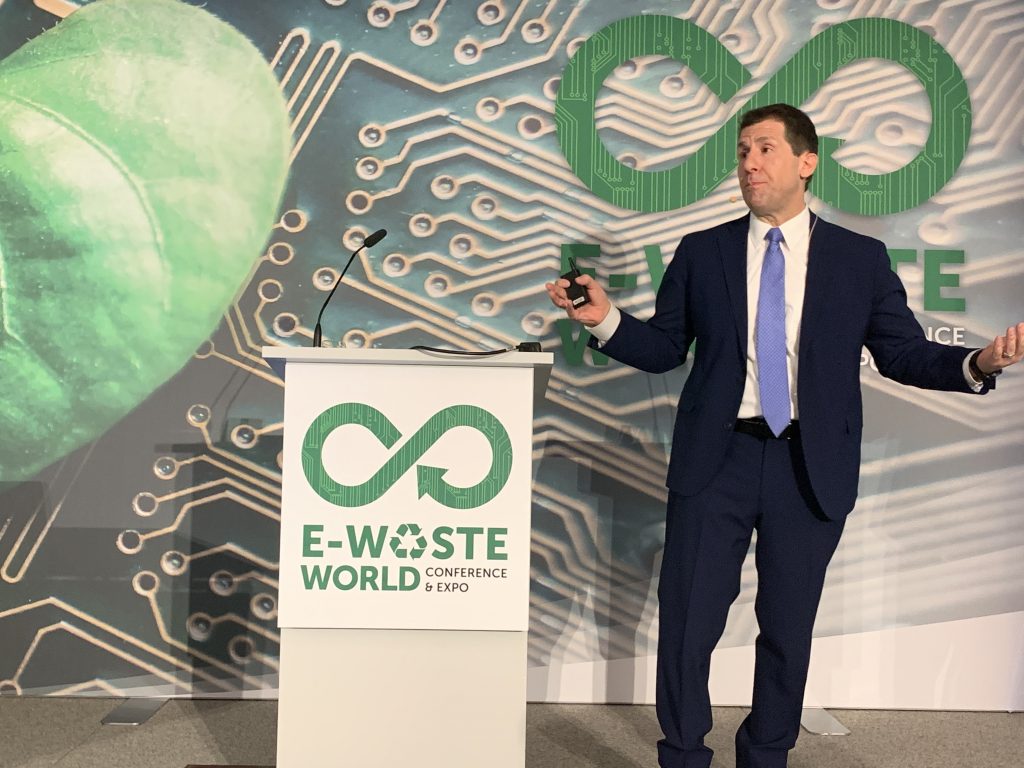 ERI Featured on "Jobs of Tomorrow" Series on Amazon, Roku and Tubi
Business Wire
FRESNO, Calif. — March 28, 2023
ERI, the nation's largest fully integrated IT and electronics asset disposition provider and cybersecurity-focused hardware destruction company, and its cofounder, Chairman and CEO John Shegerian, are featured in two episodes of the new "Jobs of Tomorrow" documentary series currently streaming via Amazon, Roku and Tubi.
The premier season of the docuseries series goes behind-the-scenes to examine the innovations and technology shaping the future of the recycled materials industry, and the jobs that go with it. Shegerian and ERI are featured in episodes #15 ("Technology and Recycling") and #16 (Closing the Circuit: Recycling Electronics").
Sponsored by the Institute of Scrap Recycling Industries (ISRI), the docuseries showcases career opportunities and the future of the recycling industry, exploring innovative fields in recycling, described by those currently leading the industry.
"It has been an honor and a privilege to participate in this critical, timely and beautifully made series alongside our friends and colleagues at ISRI," said Shegerian. "The future of recycling – electronics and otherwise – is indeed a bright one and we are excited that a television series such as Jobs of Tomorrow is helping spread the word about the tremendous opportunities available in our industry to current and future entrepreneurs and professionals who are interested in careers driven by innovation and a desire to make the world a better place."
"This is a really exciting way to showcase how the recycled materials industry provides the materials that make everyday items and essential infrastructure people depend on," said ISRI's Vice President of Communications Mark Carpenter. "It also explores topics that matter in developing the workforce of today and tomorrow, including sustainability, the growing use of technologies, such as artificial intelligence and robotics, and data security."
ERI has been providing comprehensive ITAD and electronic waste recycling services since 2002 and is the first in the industry to be SOC 2, NAID AAA, R2 and BAN e-steward certified. ERI is also a fully carbon neutral organization, distinguishing the company as the world's first electronic recycling and ITAD company to achieve carbon neutral status at all of its facilities nationwide. With its longstanding dedication to ESG, ERI is also the recipient of an overall "A" rating (the highest grade ever awarded to a company in ERI's industry) from the Ellen MacArthur Foundation's Circulytics tool, which measures progress towards a circular economy.
ERI is the largest fully integrated IT and electronics asset disposition provider and cybersecurity-focused hardware destruction company in the United States. ERI is certified at the highest level by all leading environmental and data security oversight organizations to de-manufacture, recycle, and refurbish every type of electronic device in an environmentally responsible manner. It is the first and only company in its industry to achieve carbon neutrality at all its facilities nationwide, and the first to achieve SOC 2 certification for security and data protection. ERI has the capacity to process more than a billion pounds of electronic waste annually at its nine certified locations, serving every zip code in the United States. ERI's mission is to protect people, the planet and privacy. For more information about e-waste recycling and ERI call 1-800-ERI-DIRECT or visit https://eridirect.com.
View source version on businesswire.com: https://www.businesswire.com/news/home/20230328005844/en/
Contact: Media contact: Paul Williams, 310/569-0023, paul.williams@eridirect.com