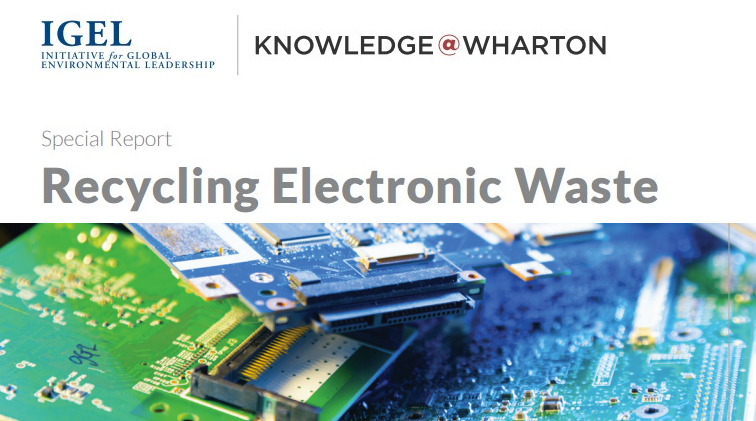 Electronic Recyclers International (ERI), the nation's leading recycler of electronic waste, announced today that it has entered an academic partnership with the University of Pennsylvania Wharton School of Business's Initiative for Global Environmental Leadership (IGEL).
ERI and IGEL will collaborate on initiatives that bond sustainability and business best practices and develop the next generation of sustainability solutions for both electronic recycling and the broader community. With a program committed to cultivating innovation, IGEL promotes knowledge for business sustainability through world-class research and an open dialogue between academic, corporate, government and non-government organizations.
Additionally, Wharton and IGEL faculty and researchers will participate in an open knowledge exchange with ERI regarding sustainability, industry and community leadership.
"Partnerships with leaders of industry such as ERI are essential to our research, teaching and thought leadership efforts," said Joanne Spigonardo, Senior Associate Director of Business Development of Wharton's IGEL. "This collaboration can yield practical real world results and cutting edge solutions for problems ranging from curbing the glut of e-waste entering our waste stream to digital security to electronic recycling best practices in general."
"We are excited and honored to be working with the tremendous business and research minds of Wharton and IGEL," said John Shegerian, ERI's Chairman and CEO, "For us, the IGEL partnership offers a number of benefits, including access to faculty and research at one of the world's leading business schools and the opportunity to contribute and share our experiences and best practices with these thought leaders. Based on our shared commitment to sustainability and the preservation of natural resources, we have formed an instant connection that is sure to fuel positive change."
Shegerian has also been given a seat on the IGEL Advisory Board.
Among other aspects of the partnership, ERI will work with IGEL to discuss and analyze ERI's game changing innovations in the electronic waste industry. There will also be collaborative reports created on the subject for the University's Knowledge at Wharton journal and Shegerian will appear as a guest expert discussing electronic waste recycling on the "Knowledge@Wharton" segment featured on Sirius Wharton Radio.