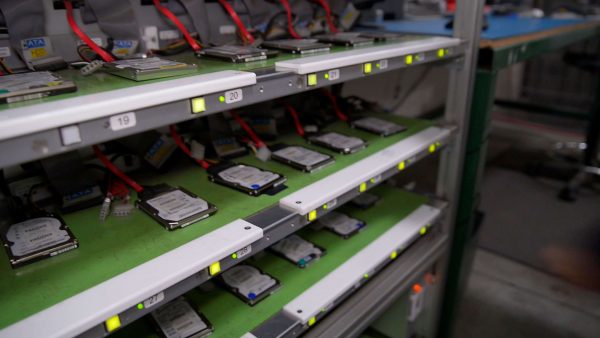 ERI, the nation's leading recycler of electronic waste and the world's largest cybersecurity-focused hardware destruction company, was a featured speaker today at the NAID 2017 Conference and Expo at the Tropicana in Las Vegas.
Jerry Powell publisher of Resource Recycling & E-Scrap News, Shegerian described and shared insights on the current status and emerging trends that every data destruction service provider should know, including best practices and the direction the industry is taking.
"The secure destruction industry is changing," said NAID CEO Bob Johnson. "Our industry professionals need new skills, new information, new tactics and new strategies to grow and succeed. The type of education and up-to-the-minute information offered at NAID 2017 is incomparable, and this panel is a perfect example. It's been great to have two of the world's most highly-regarded electronics recycling professionals, John and Jerry, sharing their knowledge with our audience today.
"As the publisher of E-Scrap Magazine and organizer of the annual E-Scrap Conference, Jerry Powell is among the most knowledgeable industry students and commentators," added Johnson. "As the CEO of one of North America's largest ITAD management firms, John Shegerian regularly confronts the growing data security concerns of the largest and most high-profile corporations in the world regarding data security. Every secure destruction service provider, regardless of whether they focus primarily on paper shredding or electronics recycling owes it to themselves to learn about the fastest growing segment of secure information destruction in the world from such thought leaders."
In his presentation, Shegerian detailed ERI's industry leading efforts to protect digital security while recycling all electronics in an environmentally responsible manner – and doing it here in the US.
"It is an absolute honor and privilege to share insights with NAID's audience alongside Jerry," said Shegerian. "We're particularly proud, as AAA-certified NAID organization ourselves, to be able to set an example of adhering to and even exceeding the strictest standards of effective and responsible data destruction – and to be able to share our experience and best practice protocols with our industry colleagues here today. Proper destruction of private digital data has become a crucially important issue and NAID certification is the best way to demonstrate that you are doing it responsibly."
Seven of ERI's facilities have received AAA certification from NAID, with the eighth and final location expected to receive certification by this summer.