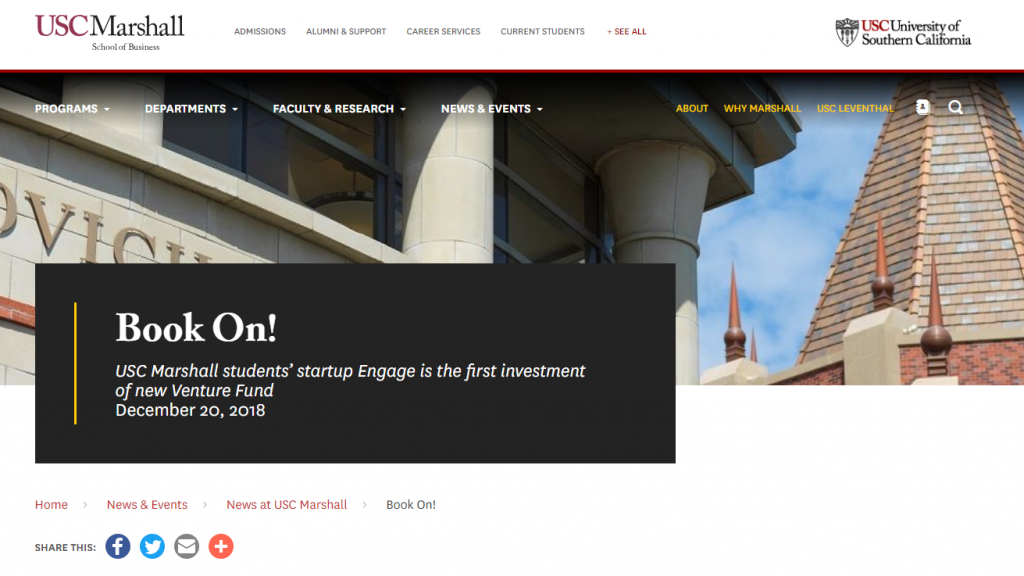 Original article published online at https://www.marshall.usc.edu/news/book
As with so many USC-based startups, this one started in a dorm.
Even as a freshman, Jake Olson '19 was in demand for speaking gigs. Robbed of his eyesight as a child due to a rare condition, he had nevertheless arrived at his dream school, USC. He was much in demand as an inspirational speaker, and that was before he became a long snapper for the Trojans.
His roommate, Daniel Hennes '19 was more than happy to help when needed. But as Olson's demand grew and the realities of college life (lots of work, not a lot of sleep) began to overwhelm the two young men, it was exacerbated by an outdated booking process. They realized something needed to change.
That something would be the booking process status quo.
Now in their senior years, Olson and Hennes leveraged their experiences and co-founded Engage, an online marketplace for experiences and events that aims to modernize the talent booking process, which still often relies on paper, fax machines, phone calls, and checkbooks.
"We realized we could create a process that was modern and streamlined, all the while making talent more accessible for both speeches as well as custom experiences," said Olson. There was also a niche to be scratched.
In a bustling economy, the world of professional speaking has expanded dramatically to include a wider range of speakers as well as tailored "experiences" with those speakers, which might include a round of golf for example. But with talent agencies typically focusing on marketing their top 5% of talent, there was a void for the remaining 95%.
"There's a tremendous tier of talent that nobody is actively marketing," said Hennes. "We want to become the go-to hub for clients in this market and beyond."
A Good Idea
The startup got the attention of Trojan investors right away. One prominent local investor, John Shegarian, heard their pitch and invested on the spot. Shegerian brought in long-time business partner, investor, and marketing expert Brendan Egan, and the two provided the funding and resources to build Engage's proprietary platform.
Then they heard about the USC Marshall Venture Fund.
The Fund invests and receives equity in ventures led by USC students, alumni, faculty and staff, said Managing Director Michael Rivera. "Its mission is to integrate USC into the startup and venture capital eco-systems to offer an unparalleled academic opportunity for students, catalyze entrepreneurship at USC, generate financial returns for the university and contribute to the economy of Southern California."
In fact, Engage is the first student startup to receive pre-seed funding.
"Engage combines many of the elements we aim to bring together through the USC Marshall Venture Fund," said Rivera. "Jake and Daniel are solving a 21st-century business challenge in a way that feels unique to the Los Angeles tech and entertainment landscape—this is exactly the kind of creative thinking the Fund intends to support."
"We are extremely excited to have USC Marshall as an investor and partner in Engage," said Olson. "USC has always supported me, and I'm honored and humbled to be able to continue working with Dave Belasco and other USC professors beyond my time at USC."
"I've known, Jake and his family since he was a teenager cheering for the Trojans and Seahawks," says David Belasco, Greif Center Executive Director and creator of the venture fund. As a freshman, Olson spoke in Belasco's class on entrepreneurial mindset and, this year, the USC Performance Science Institute established the Jake Olson Vision Award and Scholarships for students who have overcome significant challenges to attend and excel at USC. "Jake is one of my heroes," says Belasco. "If investing is betting on people, you cannot find a better bet than Jake and Daniel."