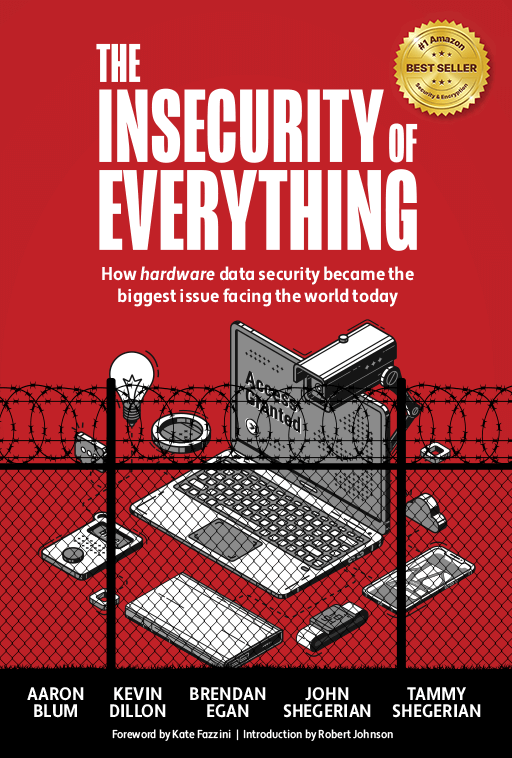 Several members of the leadership team at ERI, the nation's largest fully integrated IT and electronics asset disposition provider and cybersecurity-focused hardware destruction company, have teamed together to write and publish the new book, "The Insecurity of Everything: How Hardware Data Security is Becoming the Most Important Topic in the World."
Authored by ERI's Aaron Blum, Kevin Dillon, Brendan Egan, John Shegerian and Tammy Shegerian, The Insecurity of Everything is now available for purchase via Amazon Prime as a physical copy or digitally on Amazon.
The book focuses on the various aspects of hardware security that are often overlooked in today's society, both by consumers as well as businesses. Data destruction and hardware hacking pose a tremendous threat to individuals and organizations alike, and The Insecurity of Everything focuses on the common areas that data impacts in our modern day-to-day lives.
"Just thirty years ago, the average household only had a few electronic devices," said John Shegerian, ERI's Co-Founder and Executive Chairman. "Fast forward to today, and the average household has over four times this number and it continues to grow by the day. This trend isn't limited to households — it exists at companies, government entities, and virtually every organization and establishment around the world, including in developing countries. This has created a massive electronic waste issue, which in turn has led to not only a sustainability crisis, but also the largest cybersecurity crisis of our lifetime."
"In this book," continued Shegerian, "we examine these issues in depth, and explore how they impact every person and organization around the globe today. We also share in detail the right ways to dispose of electronics to be both environmentally friendly and also sensitive to the prevention hardware data breaches. We're very proud of this book and excited that its critical information is now available to the general public."